Reach your target audience and increase brand awareness, sales, engagement, and loyalty.
It's the process of publishing written and visual material online with the purpose of attracting more leads to your business. These can include blog posts, pages, ebooks, infographics, videos, and more.
According to Demand Metric, 78% of Chief Marketing Officers (CMOs) believe that customized content is the future of marketing.
CONTENT MARKETING IMPORTANT
72% of marketers agree that content marketing increases engagement, and 79% of content marketers use content marketing to generate high-quality leads.
With content marketing, your audiences would have gone through each stage of the buyer's journey and experienced your product even before using it – it makes it easier for you to sell to them in the future.
STUDIES HAVE SHOWN THAT 73% OF COMPANIES THAT SPEND FROM 10% TO 70% OF THEIR TOTAL MARKETING BUDGET ON CONTENT MARKETING WERE VERY SUCCESSFUL.
Increase organic search traffic
Organic search traffic is the most powerful marketing channel there is. Period! In fact, according to Bright Edge, 53% of trackable website traffic comes from organic search.
Search engine optimization (SEO)
Plays a crucial role in increasing your company's visibility. You want your company website to be on the first page of Google to be authoritative.
YOU SPEND WAY LESS TO DRIVE LEADS
On average, content marketing costs 41% less than paid search and B2B
marketers that blog get 67% more leads per month than those who don't.
B2B COMPANIES THAT BLOG GENERATE 67% MORE LEADS PER MONTH THAN THOSE WHO DO NOT.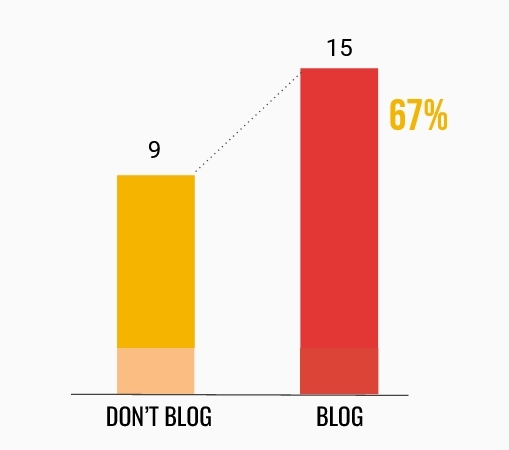 WHAT IS INCLUDED IN CONTENT MARKETING?